This Week at TBH: November 17, 2021
| | |
| --- | --- |
| Author | |
| Date Added | |
| Automatically create summary | |
| Summary | |
Wednesday, November 17, 2021  | 13 Kislev 5782
Erev Shabbat
Friday, November 19

Growing Shabbat!, 6:00 pm 
Our Growing Shabbat service is for all and geared specifically for families and children of all ages. We will use a Family Prayerbook, the service will be shorter, and we will have the opportunity to break out into groups for discussions and activities on the weekly Torah portion (also geared toward all ages).

Zoom information:
Join Meeting>> 
​​​​Meeting ID: 822 1265 3173

Family Shabbat Prayerbook

Candle lighting: 4:14 pm

Torah Readings
Parashat Vayishlach
Genesis 32:4-36:43 
Haftarah: 
Obadiah 1:1 - 1:21 
Shabbat Morning
Saturday, November 20

Mussar, 10:00 am 
We will study Genesis 32:4-36:43 – Vayishlach. The middah/soul trait for this parashah is Yirah/Awe:  
A journey of Fear and Awe. Please plan on joining Michele & Richard Jackman on Zoom for an intriguing Mussar discussion of this Torah portion and a deep dive into Jacob's journey and transformation. Please join us. 

Zoom information:
Join Meeting >>
​​​​Meeting ID: 878 6880 0830
Board Meeting
Wednesday, November 17, 6:00 pm

All TBH Members are welcome to attend monthly board meetings.

Zoom information:
Join Meeting>>  
​​​​Meeting ID: 891 3976 7511
Passcode: 770757
Hanukkah Shop!
Thursday, Nov. 18 & Sunday, Nov. 21, 10:00 am - 12:00 pm
Open every Thursday & Sunday thru Hanukkah 10:00 - 12:00 or by appointment

Miss the TBH Hanukkah Shop last year? It's back and bigger! Thanks to some generous donations from local retail suppliers, we have more stock than ever. Come by the TBH building to purchase your gelt, candles, menorahs, wrapping paper, decorations, and more. We are open every Thursday and Sunday from 10:00 am to 12:00 pm through Hanukkah  or by appointment. Cash and check are preferred. Masks are required to come in the building!


Advancing in Hebrew
Thursday, November 18, 7:00 pm

This seminar-type gathering will work on advancing Hebrew knowledge, including grammar and roots. 

Zoom information:
Join Meeting>> 
​​​​Meeting ID: 891 3976 7511
Healing & Havdalah
Saturday, November 20, 7:00 pm

Rabbi Seth will lead havdalah every month on the third Saturday of the month. These are an opportunity to informally gather as one community, and to support one another through the ongoing challenges. We will schmooze, connect with old friends and make new ones. We will have a short healing service with prayer, meditation and sharing, and conclude with Havdalah. However you seek healing in your life right now, you are welcome.

Zoom information:
Join Meeting>> 
​​​​Meeting ID: 867 0471 0982

TBH Member Hanukkah Drive Thru
Sunday, November 21, 10:00 am - 12:00 pm

Temple Beth Hatfiloh has a gift for our members to aid in your Hanukkah celebrations! Your gift bag will include the Hanukkah essentials. Gift bags will be available for member pick-up 10:00 am - 12:00 pm on Sunday, November 21 in the TBH parking lot, in a drive-through format. You are also welcome to park in order to pick up your gift and come in to the building to check out the Hanukkah Shop!

Green Burial Survey

Natural (also referred to as green) burial grounds are becoming more available for family and friends to come to honor and remember their loved ones versus the more traditional cemetery settings. Spurred on by environmentalists to address and better support our earth's health, these burial grounds continue to be established with increasing frequency throughout the country. 

Among them are twelve Jewish cemeteries that include natural burial. (What distinguishes natural burial practices from our local current Jewish burial practices are that no cement liner is required, and the body of the deceased is buried no deeper than 4 feet allowing for a more effective return to the earth.)  A group has formed to explore natural burial options in Olympia, and invites participation in this survey: https://forms.gle/tkA6TrfhLod95VRn8

All adults are invited to participate.
Monthly In-Person Shabbat in the TBH Sanctuary!
Starts Friday, November 26, 7:30 pm

Starting in November, the fourth Friday of the month will be a hybrid service, with both in-person and virtual options. We will once again hold Shabbat in the TBH sanctuary! To safeguard the health of all, we will be taking the following precautions:
Attendees must wear masks at all times.
Individuals age 12+ must be vaccinated. Children are welcome. 
Attendance is limited and requires pre-registration. 
All windows will be open for maximum ventilation--please dress accordingly!
​​​​​​​Please register in advance for in-person attendance>>
Family Life & Learning: Hanukkah Dreidel & Story
Sunday, November 28, 10:00 am

Dreidel kits will be going out with member gifts on the 21st! We'll get ready for the first night with an opportunity to show off your fabulous dreidel and celebrate with a story and a game.

Zoom information:
Join Meeting>> 
​​​​Meeting ID: 869 6870 4434
Passcode: 359356

Volunteers Needed!
Sunday, November 28, shifts between 11:30 am - 6:30 pm

TBH is participating in LoveOly Winter Fest 2021 at 5th & Washington. The event is from noon to 6pm and we are looking for  volunteers to help with kids crafts between 11:30 and 6:30. Volunteer for as little as half an hour, longer if you'd like, and while you're down here enjoy the live music and performances, other family activities and refreshments. There will also be specialty goods and hand-crafted gifts for sale in case you still have holiday shopping to do. Email Catherine to sign up for a shift at our table. 
Hanukkah Celebration and Community Menorah Lighting
Sunday, December 5, 4:00 pm

Join us for our Hanukkah party and community menorah lighting! This year, we will be gathering for community candle lighting, music and dreidel playing outdoors in the TBH parking lot (under a tent). Unfortunately no latkes this year! Remember to bring your menorah and candles to light. To safeguard the health of all, attendees must wear masks. Individuals age 12+ must be vaccinated. Children are welcome (masks required as able). 
Yahrzeits

Raven Lidman
Charlotte Grotsky Reichman
Sylvia Ebner
Tom Georges
George Hoffman
Mitchell Mogal
Etta Stern
Jack Snyder
Lilly Klein
Bessie Klotz
Marcheta Bean
C. William Chappell
Edward Duthweiler
Michael Brocha
Happy Birthday!

​​​​​​​17  Jane Zemel
17  Never North
18  Leslie Gates
18  Cobie Whitten
18  Suzanne Simons
19  Amelia Hamilton
20  Dora Hamilton
20  Esther Kronenberg
21  Lauren Steinman
Yahrtzeit Updates & Additions

Members are able to view, edit, and add Yahrtzeits on the member portal of the TBH website here. If you need assistance, please feel free to send any updates to tbh@bethhatfiloh.org.
COMMUNITY EVENTS/RESOURCES:
Note: These are not officially sponsored or endorsed by TBH, but they are listed as they have Jewish content and/or may be of interest to our community. 
Climate Reality Thurston: The Current International Response to Climate Change
Thursday, November 18, 7:00 p.m.

The TBH Green Team invites you to participate in this event by Climate Reality Thurston Chapter. Wayne Olsen, retired Navy oceanographer/meteorologist, Climate Reality Project and TCAT volunteer, will discuss the pivotal Conference of the Parties (COP26) meeting in November, the latest report from the Intergovernmental Panel on Climate Change (IPCC) scientists, the urgency for nations to double down on pledges to greatly reduce greenhouse gas emissions, the stakes involved if they do not, which nations are the leaders or laggards, and what we can do about it. Join Meeting>>
The Human Faces of the Israeli/Palestinian Conflict: Learning from those doing the work on the ground for a better society
Sunday, November 21, 11:30am

Oregon Reconstructionist congregations Temple Beth Israel & Temple Beth Sholom are hosting a series that explores the efforts and experiences of Israelis and Palestinians who invest their energy and resources in building the shared society they envision. On November 21st, two members of the Roots Palestinian-Israeli Network, Noor Awad and Rabbi Shaul Judelman, will be presenting the amazing work of Friends of Roots (friendsofroots.net/). Register here>>
Eight Transformative Nights!
Sunday, November 21 - Monday December 6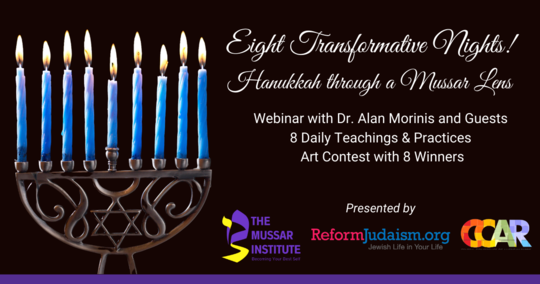 Join the Mussar Institure, URJ, and CCar for a Special Free Hanukkah Program in Three Parts! Join Mussar Institue Founder Alan Morinis on November 21 for Lights in Our Homes, Light in Our Souls: Hanukkah Mussar, receive daily teachings during the 8 days of Hanukkah, and participate in an art contest. 
Read more about this program>>
Havurah Shalom: Hand in Hand Event
Sunday, December 5, 10:30 am

Portland Reconstructionist congregation Havurah Shalom's Israel-Palestine Committee is excited to host two of Hand in Hand School's principals on Sunday, Dec. 5th. We invite you to join us and experience what one vision of a shared society between Jewish and Palestinian Israelis can look like. Yes, there is a model and it's been around since 1997. Israel's Hand in Hand Schools are bi-cultural, bilingual, integrated schools for Arabs and Jews. Come meet and talk with Manar Hayadre, principal of the Galilee School; Efrat Meyer, principal of the High School in Jerusalem; and Havurah's own Lee Gordon, one of the founders of Hand in Hand. Read more about the event here>>
Temple Beth Hatfiloh, 201 8th Ave SE, Olympia, WA 98501
{{shulcloud_footer_left}}
{{shulcloud_footer_right}}
Tue, December 7 2021
3 Tevet 5782
Tue, December 7 2021 3 Tevet 5782