This Week at TBH: November 3, 2021
| | |
| --- | --- |
| Author | |
| Date Added | |
| Automatically create summary | |
| Summary | |
Wednesday, November 3, 2021  | 28 Cheshvan 5782
Erev Shabbat
Friday, October 29

Shabbat on Zoom, 7:30 pm 
Our Shabbat service in the comfort of your own home with choir leaders! Grab your computer and candles, and we'll join together in virtual community celebrate Shabbat. Services will be hosted on Facebook Live and Zoom.

Zoom information:
Join Meeting>> 
​​​​Meeting ID: 822 1265 3173

Shabbat Prayerbook

Candle lighting: 5:30 pm

Torah Readings
Parashat Toldot
Genesis 25:19-28:9 
Haftarah: 
Malachi 1:1 - 2:7 
Shabbat Morning
Saturday, October 30

Tot Shabbat, 10:00 am 
Our outdoor Tot Shabbat series continues this month, gathering at LBA park. Olympia Parks and Rec has suspended shelter rental for the winter months, so please bring an umbrella on the offchance that the shelter is unavailable!

Masking (for adults and children as able) and distancing will be required. All kids ages 0-6 and their grown-ups and families are invited to share in song, story, movement, music and prayer as we celebrate Shabbat together! 
Meal Orders are due Tuesday! November Salon@Home
Meal Orders due Tuesday, November 9, 5:00 pm




For our November salon on Friday, November 12, TBH is excited to host three members of the research team of Beyond the Count: Perspectives and Lived Experiences of Jews of Color--Dalya Perez, Vincent Calvetti, and Gage Kleinman--to share key insights from the study and what we as a Jewish community can learn from it. The report can be found here.

Dinner provided by Nineveh will be available for pre-order, and you can pick it up at TBH on Friday early evening. Erev Shabbat services will be at 6:00 pm, after which we will hear from our featured speakers, beginning at approximately 7:15 pm. Meal orders are not required for attendance, please join for all or part.

Dinner Menu:
Falafel
Hummus with veggies
Sweet potatoes with tahini and nigella seeds
Jerusalem salad
Potato sambusek with pomegranate molasses dipping sauce
Baklava
Hanukkah Shop is Back!
Starts Thursday, Nov 4, 10:00 am - 12:00 pm
Open every Thursday & Sunday 10:00 - 12:00 or by appointment

Miss the TBH Hanukkah Shop last year? It's back and better than ever! Come by the TBH building to purchase your gelt, candles, menorahs, wrapping paper, decorations, and more. We are open every Thursday and Sunday from 10:00 am to 12:00 pm through Hanukkah  or by appointment, starting this Thursday, November 4th. Cash and check are preferred. Masks are required to come in the building!
Book Group
Tuesday, November 16, 7:00 pm

Feast Your Eyes: A Novel - Myla Goldberg
After discovering photography as a teenager through her high school's photo club, Lillian rejects her parents' expectations of college and marriage and moves to New York City in 1955.
See the full book group 21-22 reading list here.

Zoom information:
Join Meeting>> 
​​​​Meeting ID: 830 5589 8223
TBH Member Hanukkah Drive Thru
Sunday, November 21, 10:00 am - 12:00 pm

Temple Beth Hatfiloh has a gift for our members to aid in your Hanukkah celebrations! Your gift bag will include the Hanukkah essentials. Gift bags will be available for member pick-up 10:00 am - 12:00 pm on Sunday, November 21 in the TBH parking lot, in a drive-through format.

Monthly In-Person Shabbat in the TBH Sanctuary!
Starts Friday, November 26, 7:30 pm

Starting in November, the fourth Friday of the month will be a hybrid service, with both in-person and virtual options. We will once again hold Shabbat in the TBH sanctuary! To safeguard the health of all, we will be taking the following precautions:
Attendees must wear masks at all times.
​​​​​​​​​​​​​​Individuals age 12+ must be vaccinated. Children are welcome (masks required). 
Attendance is limited and requires pre-registration. Please look for a sign-up link soon.
All windows will be open for maximum ventilation--please dress accordingly!
Hanukkah Celebration and Community Menorah Lighting
Sunday, December 5, 4:00 pm

Join us for our Hanukkah party and community menorah lighting! This year, we will be gathering for community candle lighting, music and dreidel playing outdoors in the TBH parking lot (under a tent). Unfortunately no latkes this year! Remember to bring your menorah and candles to light. To safeguard the health of all, attendees must wear masks. Individuals age 12+ must be vaccinated. Children are welcome (masks required as able). 
Yahrzeits

Roslyn Cohen
Aleksandra Kompaniez
Richard Shecter
Ann Baldwin
Harriet Rosen
Rose Robinson Margolis
Ronald Jerome Brooks
George Neff
Bernard Carr
Selma Soule
Artie Browning
Jody Rosenkrantz
Esther Pollock
Ruth Jaffe Farber
Ernest Tichenor
Leroy Hittle
Rose Packer
Bernard Shelan
Mary Parker
Charles Friedman
Walter Benjamin Reichman
Lois Arnold Gale
Raven Lidman
Charlotte Grotsky Reichman
Happy Birthday!

3  Erin Syversen
5  Evan Ferber
9  Gail Wish
Yahrtzeit Updates & Additions

Members are able to view, edit, and add Yahrtzeits on the member portal of the TBH website here. If you need assistance, please feel free to send any updates to tbh@bethhatfiloh.org.
COMMUNITY EVENTS/RESOURCES:
Note: These are not officially sponsored or endorsed by TBH, but they are listed as they have Jewish content and/or may be of interest to our community. 
Reconstructing Judaism Convention Registration: Early Bird Discount
Open Until Monday, November 8


We will come together, both in-person and virtually, from March 23 – 27, 2022 for B'Yachad: Reconstructing Judaism Together in the Washington, D.C. metro area. During Convention, we will learn from and with experts, scholars and lay leaders. We will engage in conversations, ask questions, and listen. We will pray together, sing together, dance together and celebrate all that we do every day in our communities to reconstruct Judaism. ​​​​​​​Learn more and register>>
The Human Faces of the Israeli/Palestinian Conflict: Learning from those doing the work on the ground for a better society
Sunday, November 21, 11:30am

Temple Beth Israel & Temple Beth Sholom are hosting a series that explores the efforts and experiences of Israelis and Palestinians who invest their energy and resources in building the shared society they envision. On November 21st, two members of the Roots Palestinian-Israeli Network, Noor Awad and Rabbi Shaul Judelman, will be presenting the amazing work of Friends of Roots (friendsofroots.net/). Register here>>
Eight Transformative Nights!
Sunday, November 21 - Monday December 6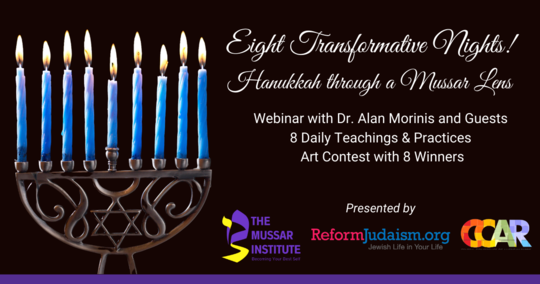 Join the Mussar Institure, URJ, and CCar for a Special Free Hanukkah Program in Three Parts! Join Mussar Institue Founder Alan Morinis on November 21 for Lights in Our Homes, Light in Our Souls: Hanukkah Mussar, receive daily teachings during the 8 days of Hanukkah, and participate in an art contest. 
Read more about this program>>
Havurah Shalom: Hand in Hand Event
Sunday, December 5, 10:30 am

Havurah's Israel-Palestine Committee is excited to host two of Hand in Hand School's principals on Sunday, Dec. 5th. We invite you to join us and experience what one vision of a shared society between Jewish and Palestinian Israelis can look like. Yes, there is a model and it's been around since 1997. Israel's Hand in Hand Schools are bi-cultural, bilingual, integrated schools for Arabs and Jews. Come meet and talk with Manar Hayadre, principal of the Galilee School; Efrat Meyer, principal of the High School in Jerusalem; and Havurah's own Lee Gordon, one of the founders of Hand in Hand. Read more about the event here>>
Temple Beth Hatfiloh, 201 8th Ave SE, Olympia, WA 98501
{{shulcloud_footer_left}}
{{shulcloud_footer_right}}
Tue, December 7 2021
3 Tevet 5782
Tue, December 7 2021 3 Tevet 5782