This Week at TBH: October 27, 2021
| | |
| --- | --- |
| Author | |
| Date Added | |
| Automatically create summary | |
| Summary | |
Wednesday, October 27, 2021  | 21 Cheshvan 5782
Erev Shabbat
Friday, October 29

Shabbat on Zoom, 7:30 pm 
Our Shabbat service in the comfort of your own home! Grab your computer and candles, and we'll join together in virtual community celebrate Shabbat. Services will be hosted on Facebook Live and Zoom.

Zoom information:
Join Meeting>> 
​​​​Meeting ID: 822 1265 3173

Shabbat Prayerbook

Candle lighting: 5:41 pm

Torah Readings
Parashat Chayei Sara
Genesis 23:1-25:18 
Haftarah: 
I Kings 1:1 - 1:31
Shabbat Morning
Saturday, October 30

There will be no Shabbat morning programming this week. 


Senior Schmooze--Online
Tuesday, November 2, 12:00 pm

Bring your jokes, no brown bags required for our monthly Senior Schmooze on Zoom. 

Zoom information:
Join Meeting>> 
​​​​Meeting ID: 838 0554 0869
​​​​​​​
Ordering is Open! November Salon@Home
Meal Orders due Tuesday, November 9, 5:00 pm




Our monthly Salon@Home returns on Friday, November 12 at 6:00 pm! In August, the Jews of Color Initiative released Beyond the Count: Perspectives and Lived Experiences of Jews of Color, a groundbreaking and unprecedented study of the Jews of Color community that will enable the Jewish community to implement more change for recial equity and inclusion. 

For our November salon, TBH is excited to host three members of the research team--Dalya Perez, Vincent Calvetti, and Gage Kleinman--to share key insights from the study and what we as a Jewish community can learn from it. The report can be found here.

Dinner provided by Nineveh will be available for pre-order, and you can pick it up at TBH on Friday afternoon. Erev Shabbat services will be at 6:00 pm, after which we will hear from our featured speakers, beginning at approximately 7:15 pm.  Place your meal order here>>
Book Group
Tuesday, November 16, 7:00 pm

Feast Your Eyes: A Novel - Myla Goldberg
After discovering photography as a teenager through her high school's photo club, Lillian rejects her parents' expectations of college and marriage and moves to New York City in 1955.
See the full book group 21-22 reading list here.

Zoom information:
Join Meeting>> 
​​​​Meeting ID: 830 5589 8223
Support needed for our Sanctuary Guests

Maria and her son took sanctuary in our Temple beginning in September 2019, when they were faced with deportation to Guatemala. Due to both COVID and an improved environment for immigrants, the family is no longer housed at TBH. Both continue to express appreciation for all of us, especially the volunteers, and to have positive feelings about the time spent in the Temple.

However, they have continued to need some financial support and we are so thankful to those of you who have contributed.  We now realize that monthly assistance of $1000.00 will be needed for some time.
 
We are reaching out to you now to pledge what you can on a monthly basis. To be clear, this is not a request from TBH. It comes from the TBH Immigration and Refugee Task Force, providing support through an account at Interfaith Works. Contributions are tax deductible.
 
If you are unable to make a monthly donation at this time, one-time donations are welcome as well.

Please click here to donate>>

If you have questions, contact Beth Halpern bethhalpern360@gmail.com.
Yahrzeits

Leo Cotler
Milton Bean
Milton Josephson
Berkeley Garrison
Leonard Snyder
Max Steele
George Koppelman
Jess Spielholz
Esther Schwartz
Dolores Franco Hurtado
Charles Griffin
Carole Stein
Roslyn Cohen
Aleksandra Kompaniez
Ann Baldwin
Richard Shecter
Harriet Rosen
Ronald Jerome Brooks
Rose Robinson Margolis
George Neff
Selma Soule
Bernard Carr
Artie Browning
Happy Birthday!

27  Sarah Weiss
29  Barbara Soule
29  Tina Cohen
30  Alana Cooper-Prince
2    James Dolliver
Yahrtzeit Updates & Additions

Members are able to view, edit, and add Yahrtzeits on the member portal of the TBH website here. If you need assistance, please feel free to send any updates to tbh@bethhatfiloh.org.
COMMUNITY EVENTS/RESOURCES:
Note: These are not officially sponsored or endorsed by TBH, but they are listed as they have Jewish content and/or may be of interest to our community. 
Jewish Federation of Greater Seattle Publice Priorities Survey
Open Until Sunday, October 31


Every year we advocate in Olympia on behalf of both our local Jewish agencies as well as the broader Jewish community, and our public advocacy committee guides our community advocacy.  In order to gain insight into the priorities of our community, we conduct an annual Jewish Community Public Policy Priorities survey. Please take a few minutes (a little more than 10) to complete this year's survey. Your answers will be critical in shaping our 2022 legislative agenda and will ensure your voice is heard in our state's Capitol. The survey is open and the deadline to complete it is October 31st!
RRC Online Institute for Prospective Rabbinical Students
Monday, Nov 1 - Tuesday, Nov 2

Are you thinking about becoming a rabbi? Do you want to learn more about RRC? Join us to experience our Deeply Rooted and Boldly Relevant program and community. This year's Institute takes into consideration that participants are stretched across the time zones (and spend a lot of time on Zoom!) Join us for as much of the program as you can attend. Attendees will be sent a final schedule.  Register now to hold your spot.
Eight Transformative Nights!
Sunday, November 21 - Monday December 6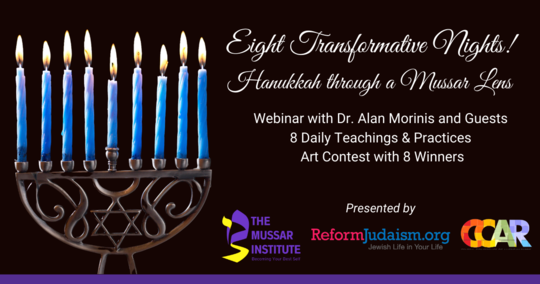 Join the Mussar Institure, URJ, and CCar for a Special Free Hanukkah Program in Three Parts! Join Mussar Institue Founder Alan Morinis on November 21 for Lights in Our Homes, Light in Our Souls: Hanukkah Mussar, receive daily teachings during the 8 days of Hanukkah, and participate in an art contest. 

Read more about this program>>
Temple Beth Hatfiloh, 201 8th Ave SE, Olympia, WA 98501
{{shulcloud_footer_left}}
{{shulcloud_footer_right}}
Tue, December 7 2021
3 Tevet 5782
Tue, December 7 2021 3 Tevet 5782